Safeguarding Policy
St Ann's Catholic Primary School fully recognises its responsibilities for Child Protection and Safeguarding, and this Policy sets out how the School will deliver these responsibilities.
Safeguarding Policy

See our safeguarding policy for all up-to-date information relating to safeguarding children within and outside of school.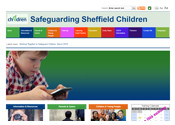 Safeguarding Sheffield

Read through the latest news and policies regarding safeguarding children in Sheffield.