Year 2 Mrs Marshall 2019/2020
Home-school learning links.
You can contact Mrs Marshall on Seesaw (seesaw.me) and share your home learning.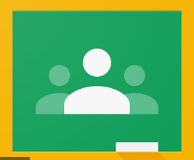 Mrs Marshall will be posting home-school learning everyday on Google Classroom. Check it out! https://classroom.google.com/h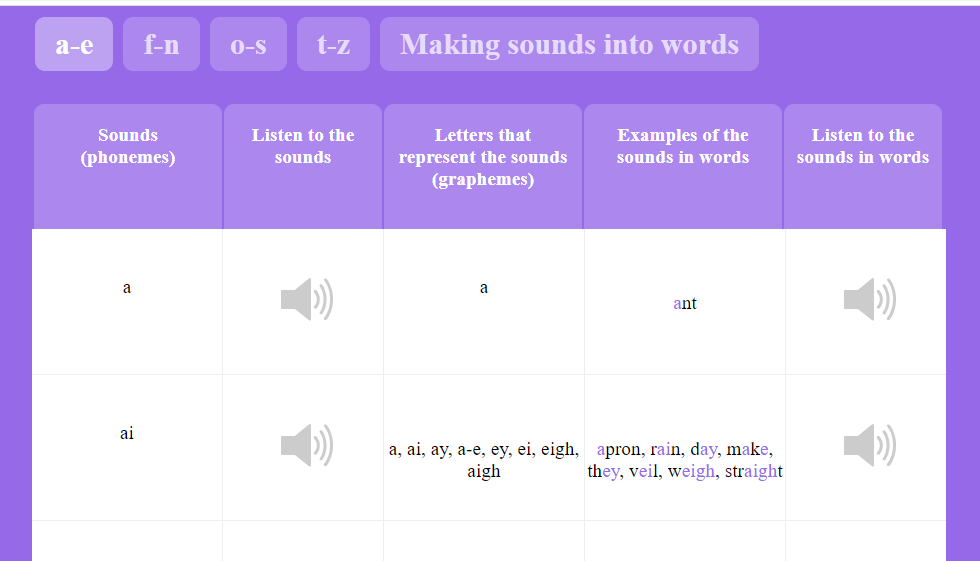 This site demonstrates how to make the sounds (phonemes) to help your child with phonics. https://cdn.oxfordowl.co.uk/2016/05/05/20/22/32/561/20097_content/index.html?id=ae#
ELEVENSES WITH THE WORLD OF DAVID WALLIAMS Every day at 11am, you can listen one of David Walliams' World's Worst Children stories, so sit down, take a break, and enjoy 20ish minutes of pure fun! https://www.worldofdavidwalliams.com/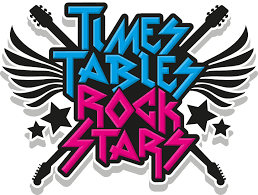 Practice your money skills with this interactive shop https://www.topmarks.co.uk/money/toy-shop-money
We are part of the RWI Phonics Scheme and they have recently
announced they will be streaming live everyday over the coming
weeks. All children should access these streams, even if your child
has passed the phonic screening test or is already a fluent reader.
This is a fantastic opportunity for your child to stay in touch with
the Speed Sounds and 'special friends'.
Regular reviewing of the speed sounds will aid your child in
spelling more complex words, reminding them of the different
graphemes (individual or groups of letters) that correspond to
the 44 phonemes (speech sounds) of the English language.
By the end of Year 2 a child working at the expected standard
should be able to –
● Segment spoken words into phonemes and represent these by
graphemes, spelling many of these words correctly and making
phonically-plausible attempts at others.
● Spell many common exception words.
● Read accurately most words of two or more syllables
● Read most words containing common suffixes*
● Read most common exception words.*
Read Write Inc Phonics films will only be available at the times
below:
● Set 1 Speed Sounds at 9.30 am and again at 12.30 pm
● Set 2 Speed Sounds at 10.00 am and again at 1.00 pm
● Set 3 Speed Sounds at 10.30 am and again at 1.30 pm
Note: films are streamed live and won't be available at other times.
https://www.facebook.com/miskin.education/
https://www.youtube.com/channel/UCo7fbLgY2oA_cFCIg9GdxtQ
Please contact me via Seesaw if you need further support.
Thank You, Mrs Marshall.
Lots of fun cooking activities can be found on the BBC website – https://www.bbcgoodfood.com/recipes/collection/kids-cooking
Check out these great and easy recipes (including online videos!) from Jamie Oliver https://www.jamieoliver.com/videos/
What can children learn through cooking? Cooking with children can provide many beneficial learning experiences. Whilst the kitchen can provide many opportunities for young children to learn, it can be a dangerous place if children are left unsupervised while they cook. Before beginning it is worth remembering a few safety tips.
Collect everything you need before hand so you don't need to leave your child unsupervised.
Encourage children to wash their hands before cooking.
Use only oven recipes rather the grill or rings on the hob.
When teaching your child to cut, use a blunt knife and soft foods. Any cutting requiring a sharp knife should be done by an adult. Explain the dangers of using knives. Restrict the use of sharp kitchen tools such as graters and peelers to older children.
Point out heat sources and precautions that you take such as using oven gloves when removing things from the oven. Never use dangerous equipment such as a deep fat fryer.
Set up a safe place where your child can work. Pre-schoolers would be best with a work area at a lower height. Only offer a stool if your child is able to balance on one.
Remember that raw meat or raw eggs should not be tasted.
CBBC Newsround ( https://www.bbc.co.uk/newsround#more-stories-5 ) has lots of interesting videos about world news, and it's made especially for kids. Could you make your own news report or summaries an episode? You could write a script and use a mobile phone, tablet or laptop camera to record yourself. Remember; always speak to a grownup before using ICT equipment.
Useful resources from across the curriculum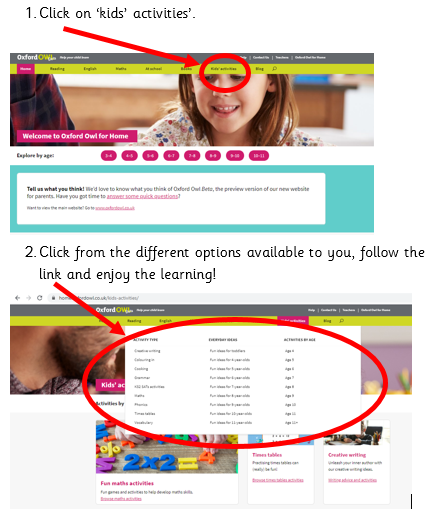 Free Ebooks to support independent reading and shared reading at home. https://home.oxfordowl.co.uk/
Pobble365 (http://www.pobble365.com/) is an amazing writing prompt site. There are hundreds (probably 365!) images with story starters and questions. Can you have a go at choosing an image and write (or draw) what happens next.
In PE have been working on our core strength, balance and coordination. At home practice balancing on one leg. Make a chart to show the length of time you can balance on your…
Right leg
Left leg
Right leg with your eyes closed
Left leg with your eyes closed
On a cushion right and left leg
A great video to help children to tie their own shoelaces https://www.youtube.com/watch?v=VA4AACzlhe8
Follow the pictures to help you get dressed all by yourself !!!
We love keeping active in Year 2! Follow the links to see some of our favourite super movers active videos.
https://www.bbc.co.uk/teach/supermovers/ks1-maths-length-height/zdrx92p https://www.bbc.co.uk/teach/supermovers/ks1-maths-position-&-direction/zhh9scw https://www.bbc.co.uk/teach/supermovers/ks1-maths-telling-the-time/zk4t8xs https://www.bbc.co.uk/teach/supermovers/ks1-english-capital-letters-full-stops/zjmrhbk