School Sports Premium Report:
School Sport Premium Report. 2017-2018
New- Cycling After School Club (KS2)
Letter : KS2 Cycling after school (KS2)
---
St Ann's PE Curriculum Map 2017/ 2018:
Term
Autumn 1
Autumn 2
Spring 1
Spring 2
Summer 1
Summer 2
Foundation

Fundamentals

Outdoors Activities

Fundamentals

Balance Bikes

(HSBC Go-Ride go)

Multi-Skills

Sports Hall Athletics

Games

Tennis

Ball skills

OAA

Tennis/

Athletics

Year 1 / 2

Gymnastics

Ball skills & Games

Gymnastics

Dance

Multi- Skills

Sports Hall Athletics

Games

Tennis

OAA

Orienteering

Tennis

Athletics

Year 3 / 4

Gymnastics

Ball skills & gamesl

Gymnastics

Basketball

Dance

Games

Swimming

Cricket

Swimming

Tag Rugby

Swimming

Athletics

Year 5/6

Gymnastics

Fitness Training

Sports Hall Athletics

Cycling

Basketball

Dance

Basketball

Tag Rugby

Orienteering

Cricket

Rounders

Athletics

Afterschool

KS1–Change4Life

KS2 – Gymnastics

KS2 –Change4Life

Basketball

KS1- Gymnastics

Outdoors & adventurous (All)

KS2 – Cycling

TBA

TBA Outdoors & Adventurous

Change4Life – Games

Craft Club

TBA

KS1 – TBA

KS2 – TBA

Outdoors & adventurous ( All)
---
After School Clubs for Autumn 2.
Monday – KS2 Football with Mrs Wilde – Monday 6th November 2017
Monday – Outdoors & Adventurous – All ages Starts Monday 6th November 2017 – Mrs Beaumont
Tuesday – KS1 (Including reception) – Gymnastics – Starts Tues 7th November – Rachael ( Links SSP)
Thursday – KS2 – Basketball –Mrs Beaumont – starts 9th November 2017.
Thursday – Craft club – Miss Gill & Miss Porter – separate letter to follow.
Please ensure your child has the correct PE kit in school for all activities. Children need a white T-Shirt (not vests) black shorts and suitable footwear,either pumps or trainers, and tracksuit, waterproofs etc for outside activities. Also can you ensure that you child has their water bottle in school at all times – especially for PE and the after school clubs.
Please return your reply slip by Wednesday 25th October 2017.
Confirmation of all places will be sent once places have been allocated. All the clubs are from 3-4pm and free of charge. Please collect your child/children from the front office at 4pm.
After School Clubs Autumn 2 2017
---
Year 3 & 4 Hotshots Basketball Competition – Tuesday 7th November 2017. 3-30pm to 4.45pm
---
                  List of Links events/ competitions to be held at Stocksbridge High School 2017/2018
Date
Event
17th October
KS1- Multi-skills
24th October
Y3/4 Handball
20th October
Primary Leadership
7th November
Y4 Hotshots
21st November
Y5/6 Sports Hall Athletics
5th December
Rec – Balance Bikes
2018
9th January
KS2 Boccia & Curling
16th January
KS1 – Boccia & Kurling
13th March
Y5 – Hotshots
27th March
KS2- Mini Tennis
8th May
Y1/2 Athletics
12th June
KS1– Mini Tennis
26th June
Y4/5 Boys Football
10th July
KS1 Orienteering
---
The School Games Mark is is a government led awards scheme launched in 2012 to reward schools for their commitment to the development of competition across their school and into the community. Participating in this process allows schools to evaluate their PE provision and assists them in developing an action plan for future progress. St Ann's are pleased to have been awarded the Bronze Award for 2016/2017 for KS2 and Silver Award for KS1.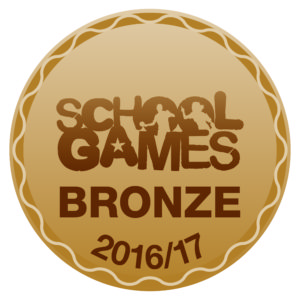 St Ann's PE Curriculum Map 2017/ 2018
St Ann's PE Curriculum Map 2017 to 2018
---
Schools Fitness Week.
School Fitness Week Monday 12th March 2018
The Whole School took part in Joe Wicks' school fitness week workout.






School Fitness Week Friday 15th September 2017
We joined Joe Wickes, the body coach, and he gave us a 'shout out' . Watch the link below and at 16.53 you will hear St Ann's shout out!
St Ann's Pupils at the Tour de Yorkshire – Day 3
Fox Valley Bike Ride – GO PRO Videos
---