School Sports Premium Report:
School Sports Premium Report 2020-2021
School Sports Premium Report 2019-2020
School Sport Premium Report 2018-2019
Evidencing the Impact of Primary PE and Sport Premium
St Ann's Curriculum Map 2019-2020
---
PE
Please ensure your child has the correct PE kit in school for all activities. Children need a white T-Shirt (not vests) black shorts and suitable footwear – either pumps or trainers – and tracksuit etc for outside activities. Also can you ensure that you child has their water bottle in school at all times – especially for PE and the after school clubs.
---
---
The School Games Mark is is a government led awards scheme launched in 2012 to reward schools for their commitment to the development of competition across their school and into the community. Participating in this process allows schools to evaluate their PE provision and assists them in developing an action plan for future progress. St Ann's are pleased to have been awarded the Bronze Award for 2018/2019 for KS2 and Silver Award for KS1.
PE- Autumn 2019
Reception class have been working on their FUNdamental skills, working on their Agility, Balance & Co-ordination. They have been learning how to hop, skip, jump and balance.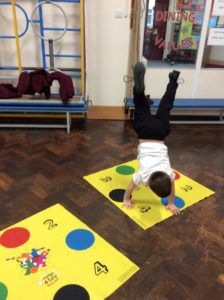 Physically Active Week – January 2019
Monday – St Ann's "Kicked off" their Physically Active week with KS2 Girls Futsal – January 2019
Tuesday " On Guard!" the children spent the day learning how to Fence.
---
Wednesday – Today the children spent time learning about the "Eat Well Plate" and how to find out how much sugar is in our food and drink by using the Change4Life Food Scanner App.
https://apps.beta.nhs.uk/change4life-food-scanner/
We also tried Pilates in French, with our French teacher.
Our new lunch time KS1 Fencing club.
And in the afternoon all our KS2 children took part in Blockfit which is a mixture of Dance, Combat, Hiit & Yoga. This was led by Lee Hible from 1Stepfitness………there were LOTS of red faces at the end of the afternoon!
https://www.1stepfitness.co.uk/blockfit
Thursday – This morning the reception class spent their PE lesson "Balancing"
In the afternoon our younger children were dancing with Helen from "Dance Fit with Helen" https://dancefitwithhelen.com/
Friday – We started our day as usual with our Proud to be Me assembly,  Lorna the School Nurse came to talk to us again about the Eat Well plate and Healthy Lifestyles https://www.nhs.uk/live-well/eat-well/the-eatwell-guide/
Followed by KS1 children trying out "Blockfit"
And Friday afternoon was spent dancing!!
What a fantastic "Physically Active" week we had!
Schools Fitness Week.
School Fitness Week Monday 12th March 2018
The Whole School took part in Joe Wicks' school fitness week workout.






School Fitness Week Friday 15th September 2017
We joined Joe Wickes, the body coach, and he gave us a 'shout out' . Watch the link below and at 16.53 you will hear St Ann's shout out!
St Ann's Pupils at the Tour de Yorkshire – Day 3
Fox Valley Bike Ride – GO PRO Videos
---