School Sports Premium Report:
St Ann's Catholic Primary School PE Curriculum 2021-22
School Sports Premium Report 2020-2021
School Sports Premium Report 2019-2020
School Sport Premium Report 2018-2019
Evidencing the Impact of Primary PE and Sport Premium July 2020
---
PE
Please ensure your child has the correct PE kit in school for all activities. Children need a white T-Shirt (not vests) black shorts and suitable footwear – either pumps or trainers – and tracksuit etc for outside activities. Also can you ensure that you child has their water bottle in school at all times – especially for PE and the after school clubs.
---
The School Games Mark is is a government led awards scheme launched in 2012 to reward schools for their commitment to the development of competition across their school and into the community. Participating in this process allows schools to evaluate their PE provision and assists them in developing an action plan for future progress. St Ann's are pleased to have been awarded the Bronze Award for 2018/2019 for KS2 and Silver Award for KS1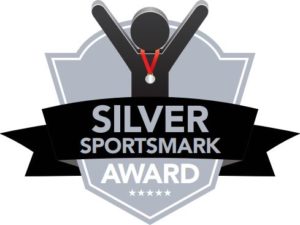 PE Autumn 2021– Our PE curriculum is in full swing with the children enjoying a wide range of activities.
Reception Y1- Our reception and Y1 class have been work on our balance agility and coordination during our fundamental movement lessons!
We have been working with Coach Jamie to really learn different ways of travelling, using different speeds and controlling our bodies.
With Miss Brotherton, we have been working on the Personal Skills Unit of our Real PE Scheme. All of our lessons have amazing themes, such as Riding my Bike, Birthday Surprises or Pirate Adventures! We are also working on our resilience and trying tasks again if we don't succeed the first time, as well as completing simple independent tasks.
We have also been looking at the beginnings of Gymnastics, really trying to use our core strength to help us make shapes and hold balances.
As well as this, in our second PE lesson we have started to look into Dance! Our theme is victorians and we are learning to hold our shapes, making sequences and count in 8's to the music! We love this session!
Y3/4 In Autumn 1, our year 3/4 class learned the rules of Bench ball!
We looked at what makes an invasion game and how we attack and defend as a team and individually. We even got the opportunity to go to the EIS and compete in a Benchball event against other schools in Sheffield!
Out of all the schools that competed St Ann's came first and won the tournament!
This half term, we are learning all about gymnastics, working on our individual shapes…
… balances on the mats and on the benches to engage our core muscles…
… and working together in pairs and small groups to construct sequences to perform to the rest of the class!
As well as these amazing routines, we have been working on giving positive and constructive feedback to our peers, to help reinforce our knowledge and communication.
Year 5/6
Our Y5/6's have also had a busy half term! They have attended a Futsal Event at the EIS where they had an amazing time competing against other schools
In PE, they have also been working on Gymnastics and learning shapes, balances, turns, jumps and rolls! After they have learned to execute the shapes, they have been practising how to perform them in a routine with finesse.
They have also recently started looking at body control and core strength in order to carry out counter balances which they performed on apparatus! How amazing are these!
After School Clubs
This half term we have had an amazing cheerleading after school club running with KS2. The children learned a variety of different dance moves which they choreographed themselves into routines as well as some extraordinary lifts and throws!
We have been participating in a football afterschool club where we have been working on dribbling, passing, controlling the ball with different parts of our body and some tricks and flicks!